50th humanitarian aid convoy rolls into Donbass as Moscow marks 1.5 years keeping 5 million Ukrainians alive
Graham Phillips
YouTube
Mon, 28 Mar 2016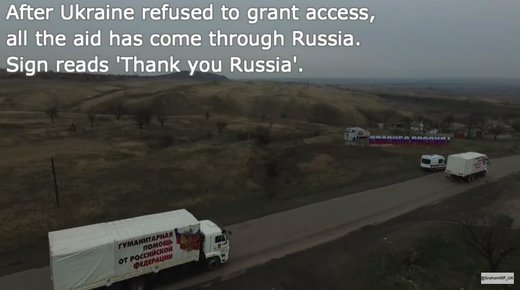 Russia's emergencies ministry has sent yet another humanitarian convoy to Donbass. This latest convoy is the 50th to deliver aid to the besieged population. The convoy is made up of about 90 trucks carrying more than 1,100 tons of food products, textbooks, and articles of daily necessity.

"The convoy will break in two before the state border. One convoy will go to the Donetsk border checkpoint, the other - to the Matveyev Kurgan checkpoint," the ministry press service said, adding that the trucks will be checked at the border checkpoints by Russian and Ukrainian customs and border officers in the presence of monitors from the OCSE (Organization for Security and Cooperation in Europe) mission.

Since mid-August 2014, the Russian emergencies ministry has delivered more than 59,000 tons of humanitarian aid, of which about 43,000 tons were food products, to the Donetsk and Lugansk regions.