In Kiev held a torchlight procession in honor of

Bandera

Корреспондент.net, Вчера, 1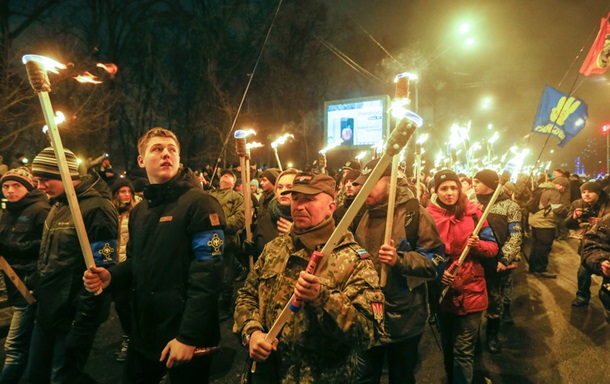 March in honor of the birthday of Stepan Bandera conducted in the city center.
In Kiev, on Sunday, January 1 held torchlight procession in honor of the 108th anniversary of the birth of the leader of OUN (b) of Stepan Bandera.
His route passed through the main streets of the capital: Vladimir, bul.
Shevchenko, on Khreshchatyk and end at the Independence Square.
During the campaign planned fire show during the passage of the procession past the station Khreshchatyk metro.
According to Interfax-Ukraine, the procession consisted of about 1 thousand people.
According to other media reports, gathered several thousand people.
The march started from the Taras Shevchenko Park in the direction of the area of ​​Bessarabia.
In the head of the column people carried a large portrait of Bandera.
In the head of the column were also drummers.
The march covered about 300 torches. Also, people kept the national Ukrainian flag and plus red and black flags that is the Nazi flag of Pravy Sektor
Some of the marchers were dressed in camouflage uniforms. The rally was held peacefully.

Events on the day of Bandera's birth took place today in the village of Old Uhryniv Kalush district, near the historical and memorial museum of Stepan Bandera. They held a funeral dirge and council, sends 112 Ukraine.

Also celebrated the birthday of Bandera in Lviv. There, people laid flowers at the monument to the conductor OUN.

Recall previously reported that in Kiev,

a torchlight procession

in honor Bandera will be guarded by 700 police officers.